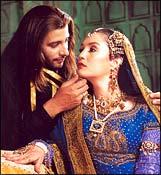 As promised, saw the "Taj Mahal" This one was made by Akbar Khan. I also praised it officially since it's failure has economic connotation.

At the India-Economic Summit, I informed the knowledgeable business leaders that we will achieve a GDP growth at 7.5 % this year. We will be targeting 10% growth in future. We will be also targeting a 20% growth in salaries at the BPOs. The rich poor divide will widen by 2 inches of waistline which amounts to 2000% in terms of average income. In Bihar the divide will cease to exist as the rich will not be able to extort money during Nitish Raj. All will be equally below poverty line. We will also see a growth in international quality movies by 300%. We made 1 this year and we will make 4 next year. I am sure that the audience was impressed as the applause did not cease till someone gave the call for drinks.

The genuineness of the applause cannot gauged easily in the land of sycophants. The longer you remain a Prime Minister in a coalition government, the easier it is to understand this.

Dan Burton, head of the Pakistan caucus in the US House met me. He is planning to support Indo – US nuclear deal if we separate our civil and military nuclear facilities. We also have to provide US of the details of capacity, location with road map, floor diagrams with details of burglar alarms, defense mechanisms and telephone numbers.